Everyone loves to be in on a secret, which probably explains why people still lose it over the concept of the speakeasy and, thus, why New York bar owners continue to market in the trend. But let's face it: we're far from the days when a "secret" bar was actually a secret — Angel's Share arguably ignited the neo-speakeasy trend nearly 20 years ago, and Prohibition was repealed 85 years ago.
That said, despite the hype, some of these bars still manage to be among the best in the city, so the real secret becomes just which of these now-ubiquitous speakeasies are actually worth your time. And we're letting you in on the details. Ahead are some newcomers who are actually turning out exciting concoctions in stylish locales, as well as older standbys that continue to sling quality drinks in fun, refined, or cozy digs — all covert, some with no signs (PDT), some with small outdoor indicators (Raines), and none with obviously marked entrances (sorry, Slowly Shirley).
LOWER EAST SIDE
Much ink has been spilled over the merits of this tiny, industrial LES spot, but with good reason: the Milk & Honey vets who run it are legit cocktail superstars who have invented a host of modern classics, like the gingery Scotch number known as the Penicillin or the Fernet-spiked Late Night Reviver, and you might even catch them making an appearance behind the bar, too. That's good news, because Attaboy's menu-less approach means you're at the mercy of the mad-genius bar staff when it comes to picking a drink. Trust us: they won't disappoint.
How to get in: Knock or ring the buzzer at 134 Eldridge St (look for a window marked with M&H Tailors and Alterations) and pray they have space for you.
LOWER EAST SIDE
Rumored to be one of two still-operating Prohibition-era speakeasies, The Back Room is more about old-school whimsy than anything else: cocktails are served in teacups, and bottled beers come wrapped in brown paper bags. But try to look past the kitsch, because this massive hidden bar — filled with velveteen furniture, a gleaming wood bar, and golden accents — is one of the most beautiful in the city, even if it is often filled with tourists.
How to get in: Descend the stairs of the "Lower East Side Toy Company," wind through the back alley, then head back up some stairs to the entrance — assuming you can make it past the doorman.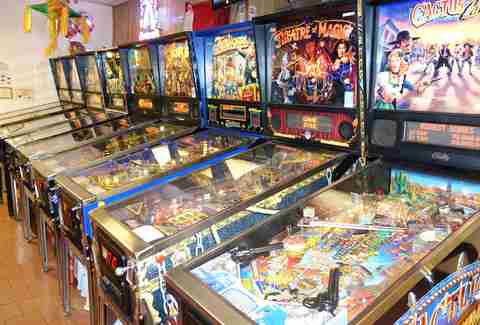 GREENPOINT
Sunshine Laundromat breaks almost all of the unwritten rules of the modern speakeasy: there is no (ugh) "mixology," just beer and wine; there's a TV in at least one corner (the horror!); and it can get a little rowdy, what with the back room's nearly 30 arcade games. As it turns out, the AC/DC Back in Black machine pairs pretty nicely with a crisp Polish lager. Also: bring quarters.
How to get in: Breeze by piles of laundry and clunking dryers to the back, where you'll find what appears to be a stand-alone dryer; that's your entrance to pinball paradise.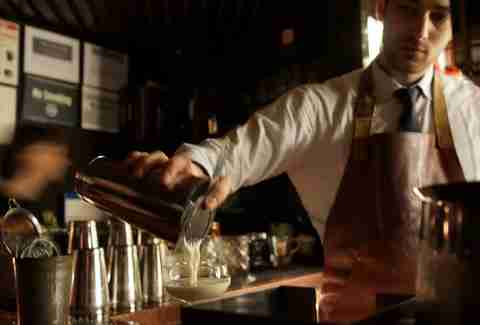 EAST VILLAGE
Please Don't Tell's original barman Jim Meehan wrote one of the modern cocktail craze's best-known books on the craft, and his East Village drinking den was the first to take home the James Beard award for best bar program. Meehan made waves in the industry by slinging cocktails that are approachable and inventive, which means drinkers of all stripes will find something here — thoughtfully prepared and well-balanced, no less — to suit their tastes. But, if you ask us, these are the moves to make: spend your wait time at Crif Dogs with a Spicy Redneck and a few rounds of Double Dragon; once inside, take a Snapchat of the bowtied or bespectacled taxidermy, order a passion-fruit-and-cucumber mezcal mule or a bacon-y Benton's Old Fashioned, and add on some cheese fries for good measure.
How to get in: Step into the wooden photo booth inside Crif Dogs and dial "1" — just once! — and a host will offer an estimated wait time… because there will always be a wait time.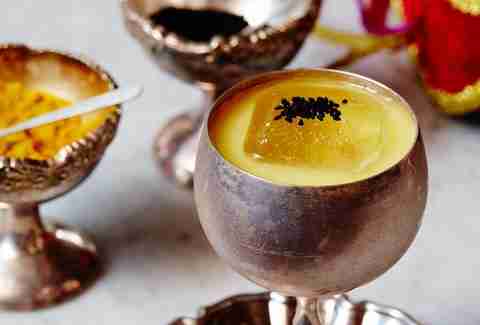 BROOKLYN HEIGHTS
Modeled after Marie Antoinette's hidden chambers, and complete with pieces directly inspired by those in Versailles, this small, subterranean space's lavish décor (gilded mirrors, tufted seating, exposed-stone walls) make it a perfect date spot. It doesn't hurt that cocktails, from a Dead Rabbit vet, are equally impressive: get the Èpice, made with cantaloupe, Chartreuse, jalapeño, celery bitters, and your choice of spirit.
How to get in: A neon light and a gate opening to a set of stairs beneath Chez Moi are the only things that mark this sort-of-sketchy-looking entrance.
CHELSEA
You're guaranteed a solid drink at any one of cocktail maven Meaghan Dorman's growing empire of bars, but when it comes to achieving that speakeasy vibe, her original Chelsea location of Raines wins out. It's sleek and sexy — plush seating, molded tin ceilings, naked-people bathroom wallpaper — and a server call button (well, chain) means you can settle in and take your time selecting an A-plus concoction. We recommend the vegetal, refreshing William, made with cachaça, bitter Suze, cucumber, and lime. Plus, in the warmer months, there's a vine-covered courtyard with outdoor seating.
How to get in: Descend the stairs at 48 West 17th St, and press the buzzer — easy.
WEST VILLAGE
Yes, another subterranean speakeasy… but this one comes with late cocktail maestro Sasha Petraske's bona fides. Design elements here are kept to a minimum to highlight the thoughtfully prepared (properly stirred and made with fresh ingredients) drinks. Pick from the list of classics-oriented cocktails (the Talent Scout is an orangey Old Fashioned variation), or go for the bartender's choice (say, gin and refreshing?). Pro tip: wait for a table. The standing-only bar area is tiny, and leaning doesn't necessarily lend itself to maximum enjoyment of a great cocktail.
How to get in: The bouncer and line outside this corner spot are a dead giveaway, or just look for a maroon metal door.
EAST VILLAGE
It takes some confidence to find this spot, and a little patience while you wait for a seat, but both pay off when you get a chance to sip on the creative concoctions at this O.G. hidden bar, which ostensibly kicked off the neo-speakeasy craze nearly two decades ago (it's said Petraske took inspiration from the bar's techniques). While other modern speakeasies tend to hew to a more classic-cocktail approach, Angel's Share turns the format on its head: some drinks may come smoked, while others incorporate uncommon ingredients, like white truffle. And its annex, located just a few storefronts away, goes even crazier, offering totally unexpected presentations like an aged boulevardier poured straight from a leather pouch.
How to get in: Climb the stairs to Japanese restaurant Village Yokocho, and enter through the unmarked wooden door in the back left.
UPPER WEST SIDE
The UWS isn't exactly known as a cocktail destination, but this hidden bar is an oasis. The drinks here highlight unique, interesting flavors (pistachio or tomato mists, mace blade tinctures), but they're decidedly unfussy — few items on the menu count more than four ingredients — so you won't have to wait for ages for your cocktail (more than we can say about some other picks on this list). That and the cozy atmosphere (yes, that is a collection of books lining a back wall) make this an ideal after-work drinking spot.
How to get in: Enter Burke & Wills and head to the back, where you'll ascend some stairs behind a green leather door; a hostess will almost certainly guide you to the upstairs bar.
LONG ISLAND CITY
The least-hidden of the drinking dens on this list, Dutch Kills still manages to capture that speakeasy charm, with its playful throwback décor: chalkboards line the well-stocked back bar, and wood paneling extends through the narrow space and up to the ultra-high ceilings in the bar area, making DK feel cozy, yet great for small groups. Looking for an intimate evening? You can also grab a booth up front. What's more, the cocktails rival (and often best) those you'd find at many of the top-notch spots in Manhattan — no surprise, since it's another Petraske bar. Go for happy hour and get a daiquiri, or opt for the Scotch-based Choker as a nightcap.